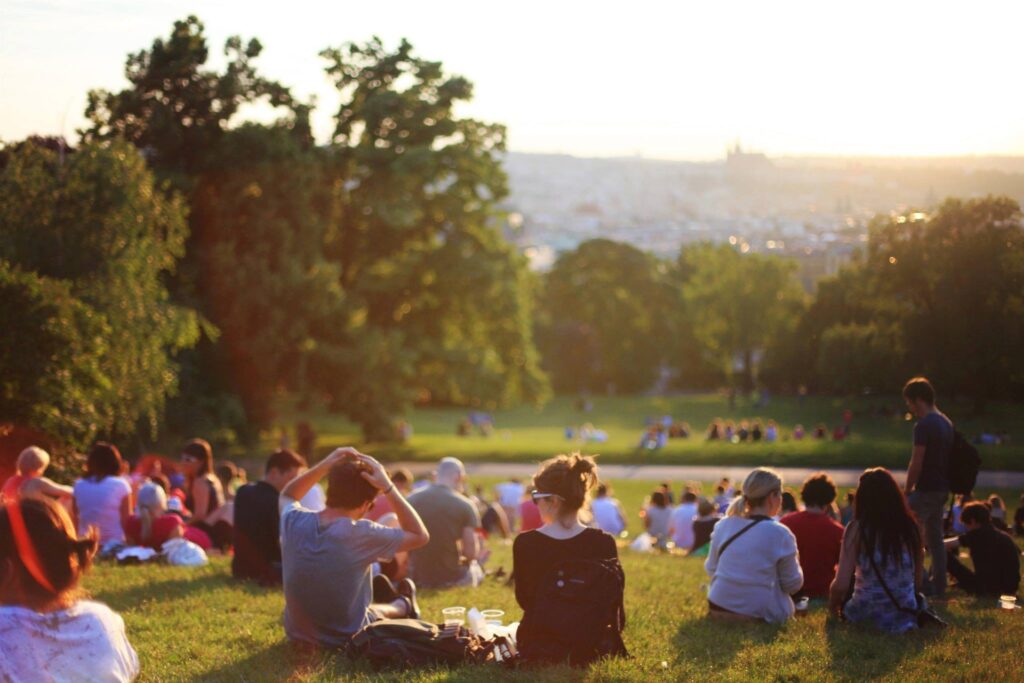 In today's fast-paced and tumultuous world, finding a sense of meaning and purpose can be a challenge, especially for those who identify as atheists. While many religious and spiritual traditions offer guidance and support to believers, atheists may struggle to find a philosophical foundation on which to ground their values and ideals. Solarpunk, an emerging cultural, aesthetic, literary, artistic, and political movement, can provide a unique and inspiring spiritual framework for those seeking a sustainable and community-driven way of life that is not rooted in theism and other common religious beliefs.
Solarpunk envisions a world that thrives on renewable energy, sustainable practices, and an ethos of community building and interconnectedness. It combines elements of science fiction, utopian ideals, and a focus on environmentalism to create a vision of a brighter, more equitable future. With its emphasis on sustainability, creativity, and hopeful future, the solarpunk framework is not only compatible with atheism, but also provides a solid foundation for exploring and embracing a sense of purpose and meaning in life.
The desire for a spiritual framework among atheists, while by no means universal, is not a new concept. Many individuals who identify as atheist or agnostic still crave a sense of connection, meaning, and personal growth. We seek a guiding philosophy that can help us navigate life's challenges and contribute positively to the world. Solarpunk, with its forward-looking and action-oriented approach, has the potential to fill this void by fostering a sense of belonging and purpose that transcends religious boundaries.
In this article, we'll briefly review the core principles of solarpunk, explore its spiritual significance for atheists, and examine the practices and rituals that can be integrated into daily life to help foster a sense of meaning of purpose. In addition, we'll touch on the impact a solarpunk spiritual framework can have on mental and emotional well-being.
As we embark on this exploration together, I invite you to stay open and consider how solarpunk's principles and practices can provide a spiritual framework for your life as an atheist (or as a theist, for that matter). By embracing solarpunk's radically hopeful and eco-conscious vision, you may discover a newfound sense of purpose and a deeper connection to the world around you, leading to a more fulfilling and meaningful life.
Solarpunk: A Brief Overview
Solarpunk Origins and History
Solarpunk emerged in the early 2010s as a response to growing pessimism regarding the future, and the flood of dystopian narratives that dominated popular culture and science fiction. It was born out of a desire to imagine a brighter future that prioritized environmentalism, social justice, and sustainable technology. The term "solarpunk" itself is (prepare to be shocked) a combination of "solar," referring to the movement's focus on renewable energy, and "punk," a nod to the DIY ethos and rebellious, counterculture, even anarchist spirit that infuses the movement.
Over the years, Solarpunk has evolved from a niche subgenre of speculative fiction and art to a broader cultural movement encompassing fashion, architecture, and present day, real world activism. It has inspired a growing number of individuals and communities to adopt its principles and work towards creating a more sustainable and harmonious world.
Solarpunk's Core Principles and Values
Let's take a moment to review four of solarpunk's core principles and values. This list is not necessarily exhaustive, but it's sufficient for our purposes here.
SUSTAINABILITY: Solarpunk emphasizes the importance of living in harmony with the environment, advocating for renewable energy, sustainable agriculture, and eco-friendly technologies. It envisions a technology-driven future where human societies have a minimal ecological footprint and are able to meet their needs without compromising the well-being of future generations.
COMMUNITY BUILDING: Solarpunk promotes the idea of strong, interconnected communities that support one another and work together to address local and global challenges. It values cooperation, mutual aid, and inclusive decision-making processes, encouraging people to actively participate in their communities and take responsibility for the collective well-being.
RADICAL HOPE: In contrast to the dystopian narratives that often dominate popular culture, solarpunk is inherently optimistic. It embraces the belief that humanity has the ability to overcome current challenges and create a more sustainable and equitable future, and that by working together, we can bring about positive change in the world. This is not a naive optimism, but rather hope born out of struggle, out of the realization that if we want to survive and thrive, that we have no other choice but to hope, to fight, and build a new world.
CREATIVITY: Solarpunk celebrates the power of imagination, creativity, and innovation to reshape our world for the better. It encourages individuals to explore new ideas, experiment with alternative solutions, and engage in artistic expression as a means of challenging the status quo and inspiring others to do the same.
Aesthetic and Cultural Elements of Solarpunk
Solarpunk's aesthetic is characterized by a fusion of futuristic technology, traditional craftsmanship, and lush greenery. It draws inspiration from a variety of sources, including Art Nouveau, Afrofuturism, and biophilic design. Common themes in solarpunk art, fashion, and architecture that are relevant to our discussion in this article include:
NATURE-INSPIRED MOTIFS: Solarpunk aesthetics often incorporate organic shapes and patterns, mirroring the movement's reverence for the natural world. This can be seen in architectural designs that incorporate living walls, rooftop gardens, and biomimicry principles, sleek curves, as well as in clothing and accessories made from natural, sustainable materials.
RENEWABLE ENERGY AND TECHNOLOGY: Solarpunk envisions a world powered by clean, renewable energy sources. Art and design within the movement frequently incorporate solar panels, wind turbines, and other non-fossil fuel technologies that are more eco-friendly, emphasizing the harmony between nature and human innovation.
DIY AND MAKER CULTURE: Reflecting its punk roots, solarpunk embraces a do-it-yourself ethos and a focus on local, decentralized decision making and production. This can be seen in the movement's support for community workshops, makerspaces, and upcycled fashion, as well as in the encouragement of self-sufficiency and skill-sharing.
DIVERSITY AND INCLUSIVITY: Solarpunk is an inherently inclusive movement that celebrates cultural, racial, and gender diversity. Its aesthetics and narratives often feature a wide range of perspectives and experiences, highlighting the importance of collaboration and unity in the pursuit of a sustainable future. Rather than being a tokenized diversity, solarpunk is about justice and lifting up the voices and leadership of those from communities that are marginalized and oppressed under capitalism.
It might already be apparent from this brief review that taken together, combining the aesthetic and cultural elements with its core principles and values, solarpunk offers a holistic vision of a future that's not only sustainable and equitable, but also beautiful, inspiring, and infused with both meaning and purpose.
The Spiritual Significance of Solarpunk for Atheists
The Need for Meaning and Purpose
Finding meaning and purpose in life is a fundamental human desire, regardless of one's religious beliefs or lack thereof. Atheists, like anyone else, seek a guiding philosophy that can help us navigate life's challenges and contribute positively to the world. Many atheists have found this through humanism, a philosophy that places humanity, rather than a divine being, at the center of moral and ethical concern. Solarpunk, with its focus on sustainability, community, and optimism, offers an alternative framework that is less human-centric for atheists to explore their values and aspirations.
Building a Sense of Interconnectedness
One of the core tenets of solarpunk is the emphasis on interconnectedness within human communities, between individuals, and between humans and the natural world. This sense of interconnectedness can foster a deep feeling of belonging and connectedness for atheists, both to other people and to the natural world. In this way solarpunk provides a spiritual foundation that promotes empathy, compassion, and a sense of responsibility towards others and the environment. By embracing solarpunk's community-driven values, atheists can cultivate a worldview that acknowledges the profound interconnectedness of all life on Earth, and find spiritual fulfillment through meaningful connections with others and the planet.
Reverence for the Natural World
Solarpunk's focus on environmentalism and reverence for the natural world provides atheists with a spiritual framework that celebrates the awe and wonder of the Earth's diverse ecosystems. This reverence for nature can inspire a profound sense of gratitude and humility, fostering an appreciation for the complex web of life that sustains us. By nurturing a deep connection to nature, atheists can find spiritual solace in the beauty and harmony of the natural world, experiencing a sense of wonder that is both rooted in the real, physical world and transcends the need for religious beliefs.
Emphasis on Personal and Collective Growth
Solarpunk encourages individuals to engage in personal and collective growth, emphasizing the importance of learning, self-reflection, and self-improvement. This focus on growth and self-discovery can provide a spiritual foundation for atheists, helping us develop a sense of purpose and meaning in life. By embracing solarpunk's principles and practices, atheists can embark on a journey of personal growth that not only benefits themselves, but also contributes to the betterment of their communities and the wider world.
Solarpunk Practices and Rituals for Atheists
Developing Eco-Friendly Habits
Adopting eco-friendly habits is a cornerstone of the solarpunk lifestyle, and serves as a practical way for atheists to engage with the movement's principles through a spiritual lens grounded in deeper (even if symbolic and allegorical) meaning. These practices not only have a positive impact on the environment but can also provide a sense of purpose and satisfaction. Some eco-friendly habits to consider include:
Embracing a zero-waste lifestyle (or as close to it as possible)
Choosing sustainable and ethically-sourced products (or making your own when possible)
Conserving energy and water in daily life (even if using renewable, non-fossil fuel based energy sources)
Utilizing public transportation, biking, or walking instead of driving
Supporting local, organic, and plant-based food options
Participating in Community Gardening and Environmental Projects
Community gardening and environmental projects are excellent ways for atheists to connect with others who are more likely to share solarpunk values, while also making a tangible impact on the world around them. These activities can provide a sense of accomplishment and foster a deeper connection with nature and the community. Some examples of community-based initiatives include:
Joining or starting a community garden
Participating in local clean-up efforts or tree-planting events
Engaging in habitat restoration or conservation projects
Supporting community-driven renewable energy initiatives
Practicing Mindfulness and Meditation
While there's no "Secret" or spiritual magic bullet, mindfulness and meditation are powerful tools for personal growth and self-discovery. When practiced with consistency, they can enhance one's connection to the natural world as well as the present moment. By incorporating these practices into our daily lives, atheists can cultivate a greater sense of calm and inner peace, resilience, and awareness of our interconnectedness with the world around us. Some mindfulness and meditation practices to explore include:
Nature-based meditations like forest bathing or walking meditation
Mindful eating, focusing on the sensory experience and the origin of the food
Guided meditation or breathwork exercises to promote relaxation and self-awareness
Gratitude journaling to foster appreciation for the beauty and abundance of the natural world
Celebrating Seasonal Festivals and Events
Seasonal festivals and events can provide a meaningful way for atheists to connect with the natural world and their community while celebrating solarpunk values. A common practice in paganism and witchcraft spiritualities, these gatherings can easily be secular and free of theism, focusing on the changing seasons, the Earth's cycles, and the importance of community and environmental stewardship. Four obvious examples of seasonal celebrations include:
Spring Equinox celebrations focused on renewal and growth
Summer Solstice events honoring the sun and its role in supporting life on Earth
Autumn Equinox harvest festivals, emphasizing gratitude and the abundance of nature
Winter Solstice gatherings, celebrating the dark time, self-reflection and growth, as well as the return of light and the importance of resilience
By engaging in these solarpunk practices and rituals, atheists can deepen our connection to nature, to each other, and to the solarpunk movement's core principles. In this way, we can cultivate a spiritual framework that aligns with our principles and values.
Solarpunk's Impact on Mental and Emotional Well-being
Embracing solarpunk principles and practices can have a significant impact on one's mental and emotional well-being, particularly in terms of building resilience and adaptability. By focusing on sustainability, interconnectedness, and personal growth, Solarpunk encourages individuals to develop the skills and mindset needed to navigate life's challenges with at least something approximating grace and perseverance. This resilience, in turn, can lead to greater overall well-being and a more fulfilling life.
Solarpunk's inherent optimism and hopeful outlook serves as a powerful antidote to the pessimism and cynicism that can often pervade modern society. While healthy doses of skepticism and negativity by all means have their place, by envisioning a brighter, more sustainable future and actively working towards it, we can cultivate an outlook on life that is both more positive while at the same being rooted in realism. This realistic optimism, or radical hope, can contribute to improved mental health, increased motivation, and a greater sense of hope and purpose in the midst of the rather dystopian reality we live in.
One of the most significant aspects of solarpunk's potential impact on mental and emotional well-being is its emphasis on community building and interconnectedness. By engaging in solarpunk practices and rituals, individuals can develop a strong sense of belonging and connectedness, both to their local communities and the larger global community. This sense of belonging can provide a powerful source of emotional support, reducing feelings of isolation, alienation, and loneliness while promoting overall mental health and well-being.
Conclusion
As an emerging cultural, aesthetic, and political movement, Solarpunk has the potential to inspire significant change on both a local and global scale. By envisioning a future that prioritizes environmentalism, social justice, and sustainable technology, solarpunk empowers individuals and communities to work together towards a more sustainable and harmonious world. The movement's optimistic and action-oriented approach can serve as a catalyst for innovation, creativity, and collaboration, fostering a sense of hope and determination in the face of today's challenges.
Similarly, solarpunk offers a unique and inspiring spiritual framework for atheists, providing a foundation for meaning, purpose, and interconnectedness that transcends theistic and religious boundaries. Through its focus on sustainability, community building, optimism, and personal growth, solarpunk encourages us to develop a deeper connection with the natural world and our fellow humans. By engaging in solarpunk practices and rituals as atheists, we can cultivate a spiritual framework that aligns with our beliefs and values and has a tangible impact on the world around us, while positively impacting our mental and emotional well-being.
For all the atheists out there, I invite you to explore and embrace the principles and practices of solarpunk as a means of enriching your life. By delving into the world of solarpunk, you may discover a newfound sense of meaning and purpose, a deeper connection to the natural world, and a greater sense of belonging and interconnectedness. As you embark on this journey, remember that every step you take towards living a more sustainable, community-driven, and hopeful life contributes not only to your own well-being, but also to the creation of a brighter, more equitable future for us all.
---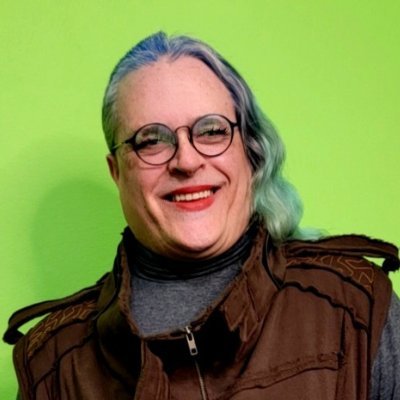 Living in rural Oregon with their partner, puppies, cats, goats, and beehives, Justine can often be found out in the garden or floating down the creek in a kayak. They're the editor-in-chief of Android Press and Solarpunk Magazine, and they compose and record music as Ashera. A long-time community organizer, Justine has helped organize labor unions, worked with tenants and houseless communities to defend against eviction, and was campaign manager for Oregon's $15 minimum wage fight. Her work has appeared in Utopia Science Fiction Magazine, Solarpunk Magazine, and Jupiter Review, among others. Their debut nonfiction book, Solarpunk Witchcraft, is forthcoming from Microcosm Publishing in 2024. They're on Twitter and Instagram @jankwrites.