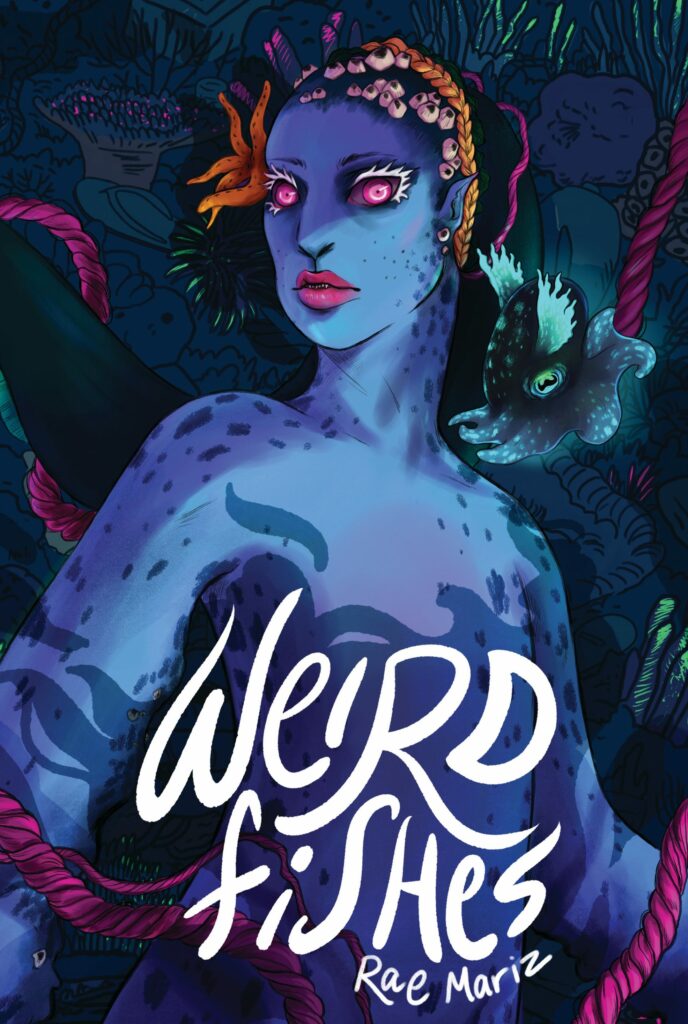 Weird Fishes by Rae Mariz was a wonderful journey that reminded me of how I felt the first time I read 20,000 Leagues Under the Sea as a kid. This book is definitely going on my recommendations list for tidalpunk literature, as it very deftly addresses climate change and its effects on the ocean without feeling preachy.
The story is an interesting take on the buddy genre, pairing a sheltered octopod scientist with an emotionally-vibrant and well-traveled mermaid. Amusing and profound interactions between the two characters help them grow as individuals while they investigate the cause and solution to slowing ocean currents.
Mariz's prose is beautiful and evokes a true feeling of wonder and connectedness to the ocean. Clever twists on common turns of phrase remind you that the main characters aren't human, and the interplay of the many different species of the ocean gives hints at the biodiversity teeming below the surface. There's even a cameo by 52 Blue, the "world's loneliest whale."
This book helps you remember that we came from the sea and that it still exerts an emotional pull on us like the tide. One of my favorite lines from the book is "People carry the ocean inside them. On an upright fishbone spine sits the soul of an octopus." Not every line in the book is that poetic, but I feel that encapsulates my feelings when I read this book.
While I wholeheartedly enjoyed this book, it isn't for everyone. The book doesn't shy away from the real world consequences of microplastics, commercial fishing, and warming oceans. Many creatures die, often in graphic, but not prolonged, ways. This book also has a content warning for sexual assault.
If you're looking for a tidalpunk read that rekindles your love for the ocean, I can't recommend Weird Fishes enough. If you've read any good tidalpunk books lately, let us know down below! I just started The Deep by Rivers Solomon and hope to report back on it soon!
---
Thanks to Stelliform Press for providing an ARC in exchange for my honest review.
If you'd like to support the blog, please use the affiliate link to the book above, or consider supporting us on Comradery, a cooperatively-owned patronage platform.